Features
Advanced Retention Policy
Our advanced retention policy enables you to keep snapshots of a file for as long as you like. This ensures that you will be able to access and recover data from any day you specify.
All platforms and common databases supported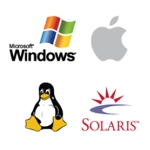 Cloudvault supports all leading operating systems which can run the Java2 Runtime environment 1.4.1 or above, including Windows, Linux, Mac, Netware, and selected NAS devices. Modules specially designed for backing up common server applications, including Microsoft Exchange Server, Microsoft SQL server, Lotus Notes/Domino, Oracle and MySQL, are bundled with the Cloudvault solution. This allows these applications to be backed up as recommended by their respective software vendors. If the databases or applications you are using in-house are not listed here, don't worry: Cloudvault's extensive and easily configurable command line tools enable you to add custom logic to basic backup operations through simple scripting.
Automated Backup
Cloudvault's automatic backup technology allows the computer to run full backups in the background automatically without affecting the computers performance. Once the backup schedules and configurations have been set, you can sit back relax and let our software handle everything for you.